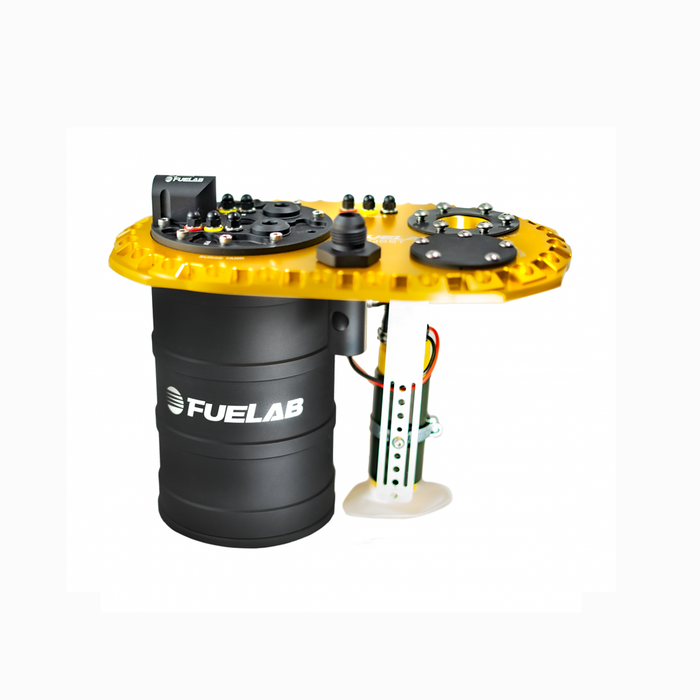 FUELAB Quick Service Surge Tank (QSST) - GOLD
Original price
G$275,000.00
-
Original price
G$275,000.00
G$275,000.00
-
G$275,000.00
Current price
G$275,000.00
WE ARE PROUD TO ANNOUNCE OUR NEW FUEL CELL COMPATIBLE UNIT "QUICK SERVICE SURGE TANK(QSST)"
This Fuel Cell "QSST" comes base as a "bare" unit without a Lift pump and with an empty Fuel Pump Hanger in the Surge Tank. We have options to add 3 different Lift Pumps, 5 different Surge Pumps, Remote Fuel Fill, Fuel Level Sensor and a Fuel Tank Vent Kit. The QSST is compatible with both Brushed or Brushless Lift and Surge Pump Options. Limited Lifetime Warranty!
FEATURES:
• Quick Service Surge Tank for fast pump service
• Provides protection against fuel slosh from standard fuel
   cell pump hangers
• Fits the Industry Standard 24 Bolt fill plate bolt pattern
• Gasoline, Ethanol(E85), and Methanol compatible
• Rollover flap protection
• Brushed or Brushless Pump Options
• Fuel Tank Vent with Rollover Protection
• Gaskets and Hardware Included
• Stock with Empty Fill Neck Hole to give you Options
• Optional Remote Fuel Fill
• Optional Fuel Level Sensor
• Limited Lifetime Warranty!
WHAT MAKES OURS BETTER?
Our QSST (Quick Service Surge Tank) is exactly that. You can service your Surge
Tank Pumps in minutes. With only 10 bolts on top, you can pull the Surge Tank
Pump Hanger out of the top of the cell and service your pumps quickly! Whereas
most competitors require you to pull the entire 24 bolt plate, then remove the
surge tank housing from the bottom to finally access your pumps. Our unit is
compatible with Brushed and Brushless pumps for both the Lift Pump and the
Surge Tank Pump(s), or a combination of the two using the same Base Plate.
Our base plate comes standard in two enticing anodized colors, Titanium and
Gold.

Kit Inclues:
FUELAB QSST Base plate and Surge Tank
FUELAB 49442 340LPH Lift Pump
FUELAB DUAL 49442 340LPH  Surge Tank Pumps  
Fuel Tank Vent with Rollover Protection
Lift pump Hanger with pump mount
3-Terminal for option of Brushed or Brushless Lift Pump
Fuel Level Sender Blockoff Plate and Gasket
Open Fuel Filler Hole for Customization (Gasket Included)
Empty Dual Pump Fuel Surge Tank Hanger (Fits Brushed or Brushless Pumps)
Corrugated fuel hose for lift pump into surge tank
1/4"-28 Hardware to mount to most fuel cell nut rings
Dont forget to add on your FUELAB Fuel Filler Kit, Fuel Level Sender, and your Fuel Cell Vent Kit!
*Product images are for illustrative purposes only and may differ from the actual product.