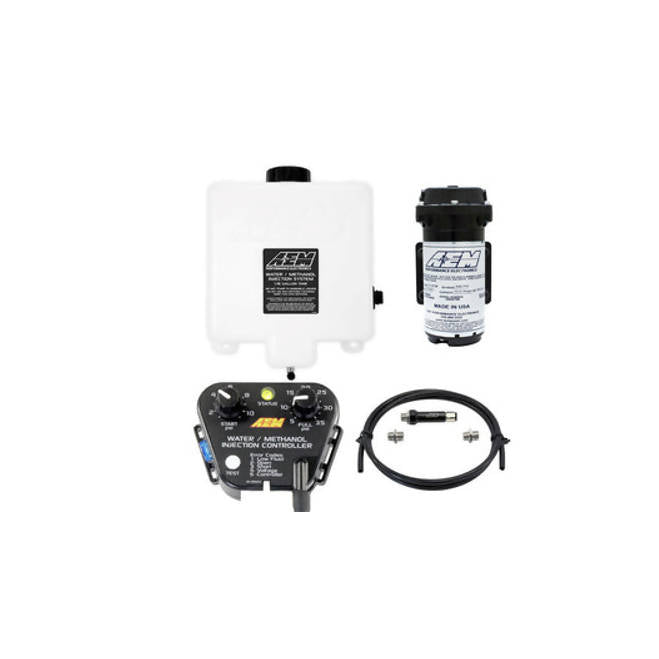 AEM V3 1.15 Gallon Water/Methanol Injection Kit (Forced Induction Kit) PN 30-3300
Original price
G$155,000.00
-
Original price
G$155,000.00
G$155,000.00
-
G$155,000.00
Current price
G$155,000.00
THE AEM WATER/METHANOL INJECTION SYSTEM ADVANTAGE
Water/methanol injection for forced induction (turbocharged or supercharged) gas-powered race engines is a proven means for effectively reducing engine inlet air temperatures and suppressing harmful detonation. This allows racers to reliably increase boost and advance ignition timing—without using high-octane racing fuel—for power gains of up to 20%. AEM's Water Injection Kits utilize robust hardware and deliver more advanced features than any other comparably priced water/methanol injection system.
Water/Methanol for All Boost Levels of Forced Induction Gas Race Engines
AEM offers two different water/methanol controller designs for gas vehicles:
One is boost dependent for forced induction vehicles up to 35 PSI of boost (kit PN 30-3300). The Boost Dependent controller has an on-board manifold absolute pressure (MAP) sensor with a molded-in nipple for a boost hose pickup.
The second controller (Kit PN 30-3350) features a multiple input design that enables users to install AEM's Water/Methanol Injection Kit on ultra-high boost vehicles (above 35 PSI) using a 0-5v voltage-based external MAP sensor.
Note: FOR OPTIMUM RESULTS, ALL WATER/METHANOL INJECTION SYSTEMS AND FLOW GAUGES SHOULD BE RUN WITH AN INLINE FILTER (PN 30-3003). For additional insurance against unintended flow, particularly when the pump and tank must be installed higher than the injections nozzle, we recommend adding our optional High-Flow Low-Current WMI Solenoid (PN 30-3326)
*Product images are for illustrative purposes only and may differ from the actual product.